Carissa Montgomery, Marketing Assistant


Despite a few early challenges compliments of Mother Nature, the 2014 Keller Schroeder Client Appreciation Event was a tremendous success. On October 3rd, over 300 Keller Schroeder guests, employee owners, and selected vendor partners took a walk on the wild side, as the theme for this year's event was Jungle Safari. Greeted by animals, bright colors, and jungle-inspired sounds, the event gave everyone the opportunity to enjoy exotic food, fantastic conversation, and lots of fun. [PICTURES]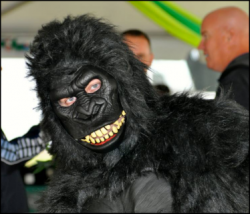 An important element of our Client Appreciation Events each year is our commitment to giving back to our community. This year, we partnered with CASA of Vanderburgh County, an organization that provides court appointed special advocates for children from birth to eighteen years who have been physically or sexually abused, neglected, or abandoned. It truly is "a jungle out there" for these children, and we were extremely excited to include them as our "Giving Back" organization this year. Keller Schroeder, both corporately as well as individual employee owners, along with our event attendees, provided office and other supplies for CASA's advocate training center and children's items for a store the organization provides for its children. Once again, attendees were entered into a gift-card drawing as an incentive to contribute items at the event. In all, hundreds of items worth thousands of dollars were donated.


Key vendor partners who joined us for this year's event and provided support and sponsorship included Cisco, Nimble, LogRhythm, Barracuda, and K2.


Join us next year, on the 1st Friday in October, for the 2015 Client Appreciation Event!