Public - Private - Hybrid
Cloud services help organizations use technology to improve business performance. At Keller Schroeder, we help clients navigate the choices, costs, and benefits of public, private, and hybrid solutions from industry-recognized cloud service providers to allow for the best possible alignment with our client's business objectives.
Ready to have a conversation with Keller Schroeder about Cloud Solutions?
Simply put, cloud computing is the delivery of servers, storage, networking, and software over the internet in a secure and scalable fashion.
Cloud infrastructure contains the tools needed to build a cloud. Compared to on-prem infrastructure, cloud infrastructure that hosts services and cloud applications, is easier to manage and access and often less expensive to update and maintain.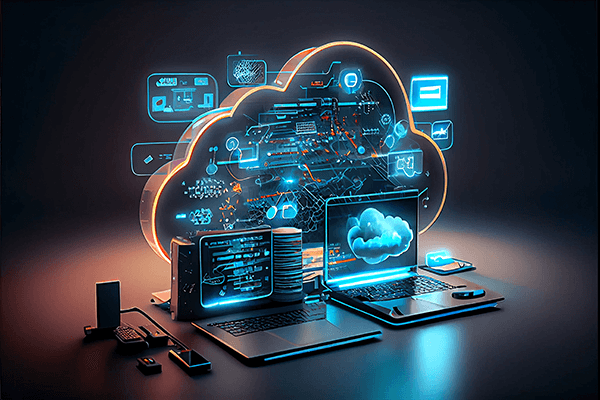 THE BENEFITS OF IMPLEMENTING A CLOUD SOLUTION
Because all of a company's information isn't stored securely onsite anymore with the implementation of a cloud solution, some companies worry about whether their data and information are safe and protected from cybercriminal activity. The truth is quite the opposite, though. Well-designed cloud-based solutions actually offer a higher level of security than an in-house IT team is likely to achieve. Some of the security benefits associated with the cloud include:
Protection from attacks
Data Security
Intrusion Prevention
Built in redundancy
Governance and Compliance requirements
Live Monitoring and Threat Detection
Cloud allows you to allocate the right amount of IT resources when you need it, how you need it and where you need it. Benefits to growing and shrinking your Data Center as you need includes:
Versatility and visibility through cloud and network management
Power and environmental efficiencies through IaaS
Productivity enhancements through PaaS
By implementing a cloud-based solution, it's never been easier for companies to effectively communicate with one another, no matter where in the world they're working from. People can access collaboration tools, new applications, and various file-sharing services. The cloud can also automatically update and sync any changes to files or documents. The cloud accommodates a remote workforce through:
Voice
Video
Email & Instant
Messaging
Public & Private Communication
Workplace Productivity
Application Services
The cloud is a crucial piece of a company's business continuity plan. With systems, data and information safely stored on the cloud, you can rest assured knowing that they're protected in the case of power failure, natural disaster, or another emergency. Even in the face of an emergency, your employees can conduct business as usual to minimize any loss of productivity or downtime, ensuring a reliable Disaster Recovery plan. This includes:
Data Replication
Off-Site Backups
Site Replication
Disaster Recovery as a Service (DRaaS)
CONTACT KELLER SCHROEDER FOR CLOUD SOLUTIONS
If your company is looking to improve or implement a cloud-based solution, contact us to leverage our team's experience and knowledge in making recommendations for the optimal solution to support your organization's business needs. Our team excels at cloud migration, design, and implementation while keeping all of your sensitive data and information safe and secure.
Reach out to us today to find out more about how Keller Schroeder can easily deploy strategies to make life easier for your company and allow your employees to work seamlessly and be more productive.