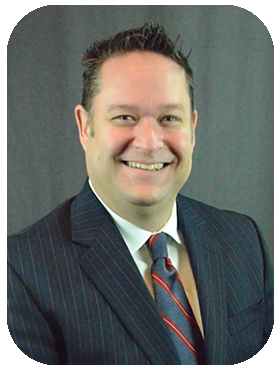 Matt Mulherin  – [Applications Consultant]
Microsoft has been very busy developing new and exciting features for SharePoint.  Now that SharePoint is online as part of Office 365, it is continually being updated and improved.  Microsoft's vision for SharePoint going forward encompasses four key areas: share with confidence, transform business processes, inform and engage employees, and harness collective knowledge.
---
Share with Confidence

One of the newest updates is the ability to add a SharePoint page to a Teams channel.  Teams is a social and chat application that encourages quick and immediate collaboration.  For example, if you have a team of employees and you communicate regularly in Microsoft Teams chatting, by sharing files, etc., you then realize that you have a SharePoint page that needs be referenced by the team.  Instead of adding a link to the team chat window for everyone to click, which directs them away from the Team channel, you can simply add the page for reference directly in Microsoft Teams.
SharePoint and OneDrive files on Demand is another new feature that allows you to easily access your personal and professional files from your favorite device.  The files are not downloaded on your device until you choose to work with them.  This new feature is a major development because as a collection of files and folders grows exponentially in our personal and professional lives, we need a better way to manage and keep visible all of this important information.  We also need quick and easy ways to share this information from our devices, which you now can do by dropping the file directly into instant messages on your iOS device, or by simply right clicking directly in Windows Explorer on your desktop.
---
Transform Business Process

You can improve your business processes by using SharePoint hub sites.  Hub sites give structure and topology to your SharePoint sites, allowing users to quickly find and access sites within your organization.  You can create one or many hub sites and organize your sites by associating like sites under the same hub site.
Create custom SharePoint forms and digital experiences with Microsoft PowerApps that surface directly in the context of a list or library.  These new forms provide better context to the user and are much more engaging and interactive.  Any user can transform a team's organizational processes because PowerApps provides the creation of customized forms without the need to write any code.
Microsoft announced major improvements to lists.  Some of these features are available today and some in late 2018.  Cognitive analysis on list data, column and row formatting, more easily create lists based on excel data and other lists, edit lists more quickly, and real-time list updates (no more refreshing pages) are some of the new list improvements announced.
---
Inform and Engage Employees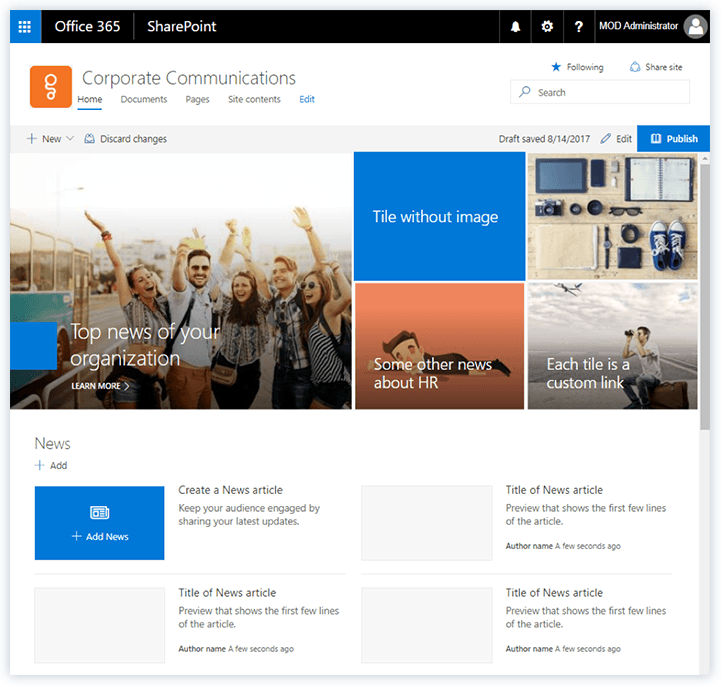 Communication sites are dynamic sites that provide the ability to reach a broad audience within an organization.  Think of a communication site as a way for the organization to share news, inform and engage employees, while fostering open communication.  These sites look great on the web, on a PC or Mac, on mobile browsers and in the SharePoint app.  Publish news content on your communications site and it will automatically surface on the SharePoint home page in Office 365.  Configuring the layout of the communication sites is very user friendly with new multi-column sections and drag-and-drop authoring.
SharePoint provides many new out-of-the-box web parts, but custom web-parts are still possible.  Microsoft has a new SharePoint Development Framework (SPFx) that gives developers a better way to develop web parts and extensions.  SPFX is available today with SharePoint Online and it will be possible to develop SPFx custom code on-premises after the release of Feature Pack 2 this fall.
Microsoft just announced an exciting new feature called SharePoint spaces that is currently in limited preview.  It is an immersive, mixed reality experience for users, which allows visualization and editing of content from any angle on any device.  Microsoft suggests using spaces for recruiting and onboarding, learning, and product development business cases.
---
Harness Collective Knowledge

For SharePoint On-Premise deployments, Microsoft is committed to on-premises and hybrid customers.  SharePoint Server 2016 has several features that confirm this commitment.  One is the on-premises feature packs that can be installed, which include some of the previously released SharePoint online features.  In addition, Microsoft provides hybrid features that allow organizations to have both an on-premises and online SharePoint environments working together to offer users a single user experience, such as merging search indexes and allowing users to view search results from both on-premises and SharePoint online.  Essentially, users are simply given content based on their search criteria, regardless of where the content is stored.
Microsoft is planning to release to preview SharePoint Server 2019 any day now and to general availability in the second half of 2018.  More hybrid features, Next-Gen Sync Client support, Modern UX throughout, and more Flow/PowerApps integration will be included.  In addition, SharePoint 2010 workflows and InfoPath forms will continue to be supported in SharePoint Server 2019.
---
SharePoint continues to grow as a popular and widely used enterprise-wide collaboration platform and we do not anticipate the growth will diminish.  According to Microsoft's Office 365 Roadmap, 62 updates are beginning to roll-out and 190 are currently in development.  We only touched on the surface of all of the new and exciting features coming to SharePoint.  Please contact your Keller Schroeder Account Manager to learn how SharePoint can positively impact the performance, collaboration, and engagement within your organization.