October is Employee-Ownership Month. Our company culture of ownership makes the Keller Schroeder experience different for those around us.
Knowing what is unique about your business and finding ways to exhibit those differences are important traits in a digital economy where consumers and employees have more choices than at any other time in history. At Keller Schroeder, we feel strongly regarding the benefits of the uniqueness of being an employee-owned business, and we celebrate National Employee-Ownership month each October to highlight how ownership makes the Keller Schroeder experience different for our clients, our communities, and our employee-owners.
Our focus on employee-ownership makes us better at our mission of being a technology company in the performance improvement business and aligns perfectly with our purpose of making positive, personal impacts on our employees, our clients, and our communities. All of our core staff employees are owners in the business, and because of our focus on sharing accountability, knowledge, and growth among those owners, we are different from most businesses. Every employee enjoys direct benefits from the growth of our company, and because of that, we value long-term relationships differently, our employees are empowered differently, and we share knowledge differently.
Application Development, Infrastructure Solutions, Staffing Solutions, and Data Strategy are not inherently unique offerings where our clients have no option but to work with us. The responsibility lies upon us to be a business partner our clients choose to work with, where they value our positive impacts more than what other providers can offer. Our "uniqueness" in a market of competitors offering similar services is offering the ability for our clients to engage in our areas of expertise with knowledgeable employee-owners who work differently because of their pride in ownership.
If you are a current client, we continue to thank you for your partnership. If you are not a client, and you would like to discern if working with an employee-owned company is really a "unique" experience, we would love to hear from you to discuss how we might be able to make a positive, personal impact on you and your business.
---
Written By: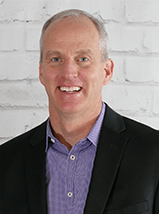 Jeff Gorman
President
Keller Schroeder