June 10, 2020

Posted by:

Carissa
Ty Nixon
Senior Network Engineer
So, you have just made a significant investment in wireless networking technologies.  Now what?  By now, most IT professionals are familiar with the common data services provided by a wireless network.  There are, however, several other benefits to sponsoring a robust wireless network.  The demand for mobility for more advanced multimedia services such as voice and video continues to increase year after year.  Multimedia services from reputable vendors such as Cisco and Microsoft now dominate the marketplace.  Additionally, the always-on pool of devices created by modern wireless networks has proven to be a terrific avenue through which to obtain asset and device tracking information.


The demand for advanced services has been encouraged by the rapid development in converged networking technologies.  Additionally, the device and endpoint markets have matured to the point where streamlined product offerings that take advantage of such services can be purchased and implemented with reasonable amounts of cost and effort.  Simply put, the modern wireless network is often required to support a variety of services and applications in order to fulfill a plethora of business needs.
Keller Schroeder has fine-tuned a business practice to assist in planning, implementing, and supporting such networks.  Our comprehensive offering can aid your business during the site survey process, equipment implementation timeline, and support throughout the lifecycle of the solution.  Keller Schroeder strives to engage reputable vendor partners for all equipment and application needs.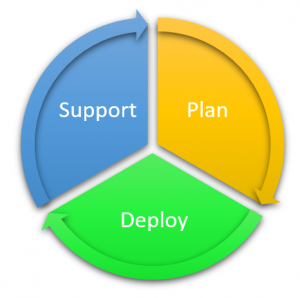 Common Applications for Converged Wireless Networks
Reliable IoT Data Services for Handheld Devices
Mobile Voice Services for Roaming Handsets
IPTV, Digital Signage, and Content Transmission
Classroom and Conference Room Management Solutions
Asset Tracking and Theft Prevention Services
Endpoint and User Reporting for Marketing Research
Incident Response Services and Perimeter Security
Outdoor Area and Property Management Needs
Keller Schroeder would love the opportunity to assist in adding value to your infrastructure purchase.  Our team of experienced and certified engineers is eager to assist you on your journey to increasing the ROI for your investment in wireless technologies. To learn more, reach out to your Keller Schroeder Select Account Manager.