Kris Linville
Senior Network Consultant
Cisco Intersight is a Software-as-a-Service (SaaS) platform that provides global management of your Cisco Unified Computing Systems (UCS) and Hyperflex infrastructure from a single interface.  The cloud-based intelligence gathers data from Cisco UCS Manager and the Cisco Integrated Management Controller (CIMC) to learn from hundreds of thousands of devices worldwide.  The data is combined with the Cisco knowledgebase to evolve and become smarter.  Tight integration between Intersight, the knowledge base, and TAC enables proactive system support which significantly reduces the time to issue resolution.  The aggregate information is synthesized and delivered in an actionable format through the Cisco Intersight recommendation engine.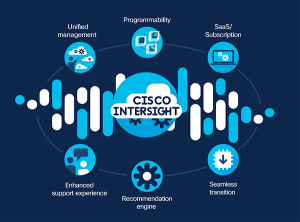 Cisco Intersight supports the OpenAPI specification and fully-functional Python and PowerShell SDKs.  It also offers a user-customizable dashboard to focus on the information, faults, and tasks that are relevant to them.  The user can then leverage the cross-launch virtual KVM and tunneling capabilities for UCS Manager, UCS Director, CIMC, and HyperFlex Connect for easy access to dive deeper into the individual systems.
The Base edition of Intersight is available for free to all Cisco UCS and Cisco HyperFlex customers running the latest versions of system software.  The Essentials edition license unlocks additional features, such as policy-based configuration with service profiles, firmware management, and the option to run as an on-prem virtual appliance to ensure compliance with data locality or security policies.  The Premier edition license includes entitlement for Cisco UCS Director.
For more information about Cisco Intersight, check out the link below and then contact your Keller Schroeder Select Account Manager a call to discuss how to get Intersight working for you.
DOWNLOAD:  Experience the Power of Cloud-Based Management with Cisco Intersight