Rob Wilson


Principal Consultant, Greater Nashville Area
As I write this, HIMSS (Healthcare Information and Management Systems Society, Inc.) just made the difficult decision to cancel its 2020 Global Health Conference & Exhibition in Orlando on short notice based on feedback from the CDC (Centers for Disease Control and Prevention) and WHO (World Health Organization) to mitigate risks associated to the spread of Coronavirus. Keller Schroeder has represented at the annual HIMSS Conference in the past, but 2020 would have been my first time to attend personally and I was excited about the opportunity to volunteer at the Interoperability Showcase. As active members in the Indiana, Kentucky, and Tennessee HIMSS chapters, we look forward to the local and regional events planned in 2020, as well as the proposed Virtual HIMSS20 Conference alternative.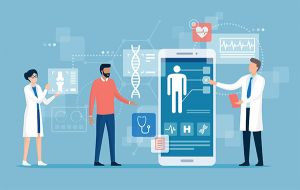 In the meantime, we engage regularly in Healthcare IT conversations with the practitioners in our network. I thought it would be helpful to share what is on the minds of those Healthcare IT leaders. I'll touch on several topics that are important in our region (if not globally) right now. Because many of these topics run deep, I am making this a multi-part series – based on our decades of IT consulting for healthcare providers in Indiana, Illinois, and Kentucky, and on conversations, I have been part of in the Greater Nashville Area over the past three years.
The journey begins at a lunchtime conversation with a senior technical talent acquisition director for Nashville's largest local employer of healthcare professionals. He worked with dozens of hiring managers at his organization to find the right people for their internal positions. Here is a summary of the priorities mentioned by the hiring managers:
Security (information and physical security from both external and internal exposures)
Enterprise analytics (including descriptive and predictive)
Applications integration (with legacy solutions, devices, and Electronic Health Records systems)
Emerging medical innovations (Artificial Intelligence, remote monitoring, population health)
Affiliations (supporting affiliated medical centers in outlying areas)
Staffing (competing for talent with other companies, even in other industries)
Cost containment (profitability and revenue cycle analysis)
Patient experience (readmission rates, patient satisfaction, higher volumes of encounters, post-discharge experience)
This list is only the beginning. I set out to understand what other challenges healthcare providers are facing both at a macro and micro level, and what we and other providers are doing to address those challenges. What I found was that from inpatient to outpatient providers, pediatric to geriatric, behavioral, urban, and rural, there are many challenges, both universal and unique. I believe Keller Schroeder is in a position to help address many of these challenges because of our healthcare experience, our diverse competencies (software, infrastructure, information security, data strategy, and staffing), and our partnerships. As the series continues, I'll help define these challenges and how technology is being leveraged to address them.
I'll start by saying the reason many of these challenges still exist is because they are complicated. Innovation in healthcare is about more than just waiting for technology to catch up. There are privacy and ethical concerns, business ramifications, regulatory compliance issues, training and staffing gaps, patient care implications, etc. With stakeholders spanning patients, caregivers, payers, providers, legislators, suppliers and more, it is encouraging to see the amount of progress that has been made already despite the complexities.
I look forward to sharing more about what is happening and what to expect. Watch for the series on our company blog and social channels. Reach out to your Select Account Manager or me if you would like to learn more about our experience in Healthcare IT.