Warren Swingle – Senior Systems Engineer
Do you have the need to send mass notifications to people in your organization? Would you like to leverage your existing Cisco phone system to add a paging system and/or notification system? Informacast software can integrate with your existing or new Cisco phone system to provide numerous paging and notification features.

Since the release of Cisco Call Manager Version 9, Cisco has included a Singlewire software called Informacast with Call Manager Business Edition 6000. It also can be downloaded free and installed with Call Manager 8.5 and higher. The Informacast Basic Paging license lever is free with Cisco Call Manager. Basic Paging allows customers to live page up to 50 IP phones through the speaker built into the phone. Custom groups can be created to page different areas, departments or groups. Informacast can run as a virtual appliance on your existing VM hosts supporting your current UC virtual machines. Since Informacast runs as an appliance, no Windows licensing is needed. Informacast Basic Paging is also supported by Cisco TAC if you have an active support contract for Call Manager. Within the same application supporting Basic Paging, a license upgrade unlocks the Advanced Notification features. Below are some of the most popular features. These features can be easily customized to fit your business need in healthcare, education, manufacturing, financial or retail.
Live or pre-recorded audio paging to Cisco IP phones and overhead paging systems.
Notification and confirmation to mobile devices (Apple iOS, Andriod and SMS), IP phones and desktop workstations.
Common Alerting Protocol integration with the National Weather Service, NOAA and Homeland Security.
Notification to Jabber Clients and Twitter
911 call monitoring, alerting and recording
Automated weather notifications
Message confirmation
Trigger notifications from other systems (door locks, panic buttons, lights, etc.)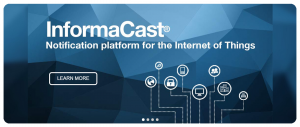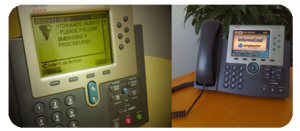 Informacast Advanced Notification can provide customized notifications and confirmation of those notifications. An example situation would be if there is an emergency that requires a site lockdown. Informicast Advanced Notification can send a pre-recorded audio page to IP phones and overhead speakers.
Simultaneously, notifications are sent to computer desktops, Apple/Andriod mobile devices and SMS text messages. If a user has received a message via a mobile device, SMS, IP phone or desktop they can acknowledge receipt of the notification. Informacast management console has the ability to track the acknowledgement of those notifications. Informicast Advanced Notification can also receive Common Alerting Protocol (CAP) notifications from the National Weather Service, NOAA, and Homeland Security. Based on the type, location and severity of the alert, Informatcast can trigger an alert via paging and/or notifications.
Another feature of Informacast is the emergency call notification. Emergency call notification can notify personnel in your organization that a 911 call has been made from your facilty and record the emergency call. The receiver of the notification will have the internal extension and name of the phone that dialed the emergency number. Many times if you have a large building or campus, the 911 PSAP is only the number and physical address of the location. Emergency call notification allows groups within your organization to be aware an emergency call has been made, where it originated, and a recording of the call. This can be critical information that can be given to first responders when they arrive.
There are many other powerful paging and notification features available with Informicast software. If you have any questions about Informacast Paging and Notification contact your Keller Schroeder Account Manager.