Software developer shortages are concerning many organizations. Here are some reasons why as well as our answers to solving those shortages.
Will you ever finish that application enhancement I requested six months ago?
When will you implement the latest release of our software? It has features I really need to do my work more efficiently.
My boss keeps asking me for that new key performance indicator report. You are four weeks late getting it to me; what's the deal?
If you are providing software application services, you have probably heard these questions from your end users and stakeholders. While delivering quality software on time and within budget is always the end goal, one factor contributing to those missed deadlines – which the labor market is seeing across the board – is staffing shortages, specifically in IT, for software developers.
Software developer shortages are causing concern among many organizations. The US Bureau of Labor Statistics projects that demand for software developers will grow 22% from 2020 to 2030, which is a much faster rate than average.1 And while that demand continues to grow, new graduates in the field of software development are not keeping pace with that growth.
Demand for software developers has grown as many IT initiatives were put on hold during the pandemic and are now moving forward again. The pandemic also accelerated the push for digital transformation. Developers are essential to completing digital transformation projects and supporting all facets of a business. Infragistics surveyed 2,015 software developers and IT professionals at the end of 2021 regarding their biggest software development challenges. The top 5 challenges are related to providing quality service to increasing customer demands while having a lack of time (additional staff) to keep pace with the work and innovation necessary to support those digital transformations.2
---
---
The lack of qualified resources is leading to slower adoption of new technology and project completions. According to the 2021-2023 Emerging Technology Roadmap Survey by Gartner: "IT executives see the talent shortage as the most significant adoption barrier to 64% of emerging technologies, compared with just 4% in 2020. A lack of talent availability was cited far more often than other barriers this year, such as implementation cost (29%) or security risk (7%)."3 The slower rollout and project completion can affect a company's bottom line and profit margins.
Attempting to get more done with fewer people is a dangerous approach that many companies may feel is their only option. This can lead to burnout among their current workforce, which will exasperate the issue and cause those developers to look elsewhere, leaving even more open positions to fill internally in an already tight and competitive labor market. It can also negatively impact a company's culture, which makes future prospects leery of joining the company. Burnout can also lead to lower quality work, which leads to rework, which increases the cost to implement.
So, what are companies to do? I'm not sure there are any go-to easy answers, but I have compiled a list of considerations that are worth exploring to see if they work for you.
Review your current Employee Value Proposition and consider strengthening it to increase the probability of retaining current staff and attracting new hires.
Expand your search for new talent outside of your geographical region.
Consider augmenting your team with consultants/contractors – and Keller Schroeder's Applications Solutions Group can help!
Consider non-traditional alternatives to training inexperienced talent.

Use Coding Intensives, which are 3–6-month training programs focused specifically on software development
Train internal candidates from other departments with the propensity for development
Pursue individuals looking to transition career paths into development
Based on the below infographic from S&P Global Market Intelligence, the need to solve the developer talent gap is not going away anytime soon.
---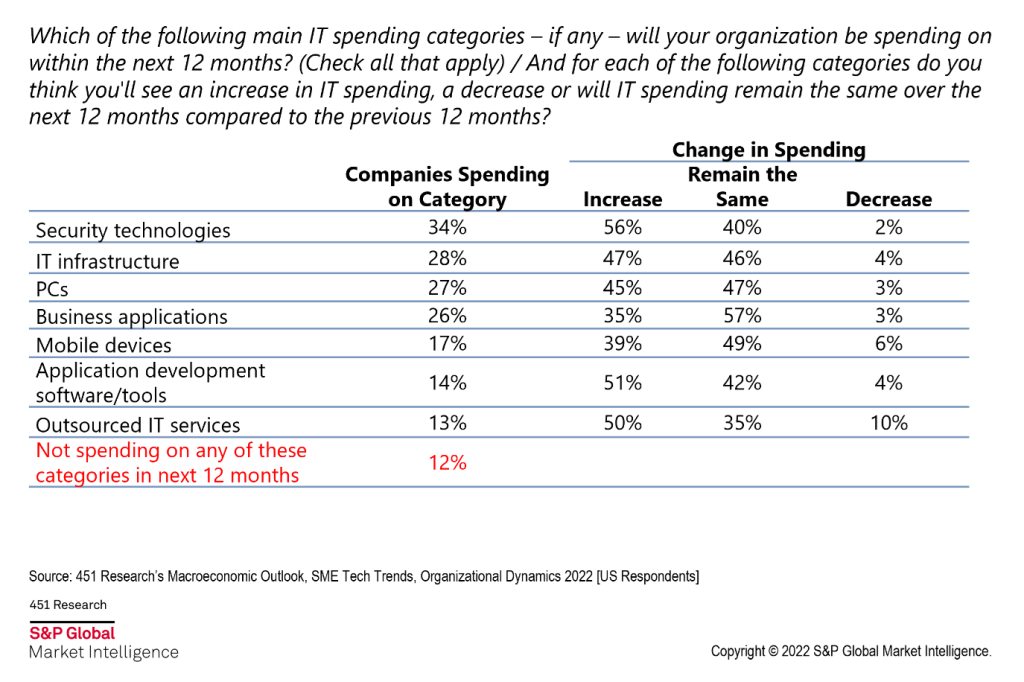 ---
"Across the board, more companies plan to increase spending than decrease, giving every category a net positive outlook for the next 12 months, which echoes our findings from a year earlier. In terms of which categories are driving the most IT investment, the survey shows security technologies (56%) and application development (51%) gaining the biggest increases."4 If you are facing the challenge of finding and retaining qualified and experienced developers, Keller Schroeder may be the answer! For help achieving your projects or enhancement requests, filling gaps while you search for talent, or providing fractional staff augmentation services, contact our Applications Solutions Group.
---
Written By: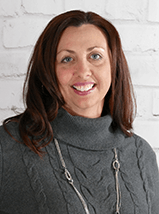 Carrie Rudolph
Director, Microsoft Applications
Applications Solutions Group
1 Bureau of Labor Statistics, U.S. Department of Labor, Occupational Outlook Handbook, Software Developers, Quality Assurance Analysts, and Testers,
at https://www.bls.gov/ooh/computer-and-information-technology/software-developers.htm (visited April 26, 2022)
2 https://www.revealbi.io/whitepapers/software-developers-biggest-challenges
3 https://www.gartner.com/en/publications/emerging-technology-roadmap-for-large-enterprises
4 "Businesses Expect to Pullback on IT Spending in the Short Term" by Michael Nocerino, as published in S&P Global Market Intelligence.
---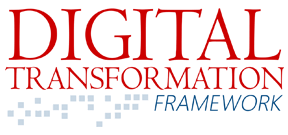 Keller Schroeder's Digital Transformation Framework includes tenets to help you identify, prioritize, execute, and learn from transformational initiatives to better prepare you for the next disruption – whatever it may be! Click here to download your complimentary copy.
Think Digital. Embrace Clarity. Increase Advantage.