Chris Haynes  – [Keller Schroeder Engineer]
        An ounce of prevention is worth a pound of cure. – Benjamin Franklin
Virtualization has become the norm in most data centers, but so is the expectation of zero downtime. Preventative maintenance is the best insurance against downtime and security threats in your storage/virtualization environment.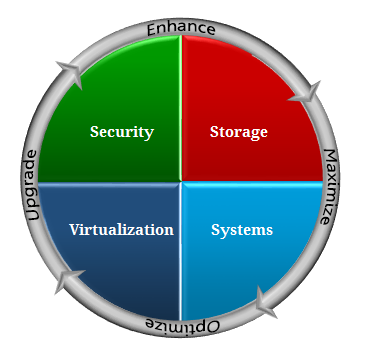 Preventative maintenance can:
Prevent productivity losses due to unscheduled downtime
Reduce security risk
Increase the quality & reliability of mission-critical IT operations
Maximize performance & efficiency
Lower overall maintenance costs
Keller Schroeder's System Team offers a Proactive Performance Management (PPM) service to perform regular preventative maintenance services and provide remedy reporting and resolution for storage/virtualization environments.
So what does our PPM service include?
Review system logs, alerts, & diagnose problems
Identify capacity & performance issues & inefficiencies
Perform minor upgrades & apply patches
Analyze/validate system configurations
Remediate discovered issues
Make recommendations for improvements or industry common practice design changes
So why use Keller Schroeder for these services?
Our Systems Team has a combined years of experience in IT of 130+ years, which is an average of about 22 years per admin. We have deep knowledge & expertise in the storage/virtualization stack, both past and present.  We carry multiple certifications in various technologies, and continuously perform new installs and upgrade existing systems in the field, so we are fresh & familiar with the latest versions, compatibility requirements, and potential pitfalls.
We already perform PPM programs for many of our clients and have developed detailed & proven install, upgrade, & patch procedures, along with health assessments & checklists, and remedy/status reports. We typically provide these PPM services on a quarterly basis, but we can build a customized plan to meet your specific needs.
A key challenge in IT is having to do more with less and dealing with a lack of resources, so let us do what we do best, so you can focus on what you do best for your business.
Please contact your Keller Schroeder Account Manager for more information.