November 23, 2015

Posted by:

Carissa
Carissa Montgomery – [Marketing & Communications Coordinator]

On Tuesday, October 20th, eight area companies in the Evansville area joined forces to host the first Tech Talk Event. Professionals from the IT departments of the participating companies were invited to gather at the Tropicana Events Plaza for networking in an open, informal setting.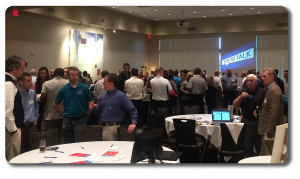 The goal of the invitation-only event was to further connect and strengthen the IT community of Evansville, in hopes that those bonds would allow the exchange of ideas and best practices now and in the future.
Over 225 IT professionals attended the first event, with topics including Mobile Application Development, Disaster Recovery and High Availability, Information Security, Agile Development, and Big Data.
The eight collaborating companies (including Keller Schroeder) plan to host the next Tech Talk event in the Spring of 2016.