Corporate intranets are making a comeback, and now it's easier than ever to stay connected regardless of where you work.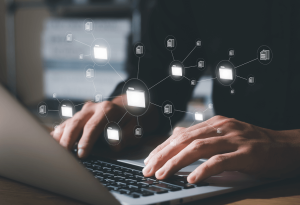 The year was 2008 (August 1st to be exact) when we launched our first blog at Keller Schroeder focused on leveraging SharePoint for company intranets. We had been working with SharePoint for about 6 years at that point and had developed a number of corporate intranets on the platform for our clients. Prior to that, Lotus Notes and DotNetNuke were our go-to platforms, with occasional custom intranets written in Java or .NET. SharePoint was a game changer. Its advanced capabilities in document management, search, and customization offset its innate clunkiness for most. You either loved it or hated it, but you probably used it or something like it.
Fast forward to recent times. The limitations of mobile support for intranets and the proliferation of a new breed of collaboration tools like Teams and Slack challenged the corporate intranet (1). Disparate SaaS products ran rampant in organizations with an emphasis on remote work. The workforce became decentralized due to COVID, and we had to find new ways to stay connected and productive as distributed teams. Eventually, as you might expect, people began seeking ways to consolidate all that information onto a single platform – a single source of truth and a single pane of glass. The intranet began its comeback.
In our client base, the intranet is as strong as ever. Much is due to the vast improvements in SharePoint Online and integration with Microsoft Office 365 products. The Microsoft platform is priced right for every company size. Chances are you already own it and aren't using it to its full potential. Remote and hybrid workers have made SharePoint relevant again, but this time it is different. Inherent first-party integrations and easy-to-integrate third-party solutions have made the Microsoft platform an invaluable force in the future of collaboration. Some refer to this new breed of intranet as an "intelligent intranet" or "integrated intranet."
Personal bias aside, I realize SharePoint isn't for everyone. I can respect that. We've built intranets on WordPress and other platforms, too. WordPress is definitely a winner when it comes to user experience in content management. When configured appropriately, it can also be quite effective in document management and is very mobile responsive. Countless plugins exist in the open market for numerous use cases, and you can develop your own customizations for added flexibility. At times, we've even integrated SharePoint and WordPress together where a public-facing WordPress site feeds data to an internal SharePoint server.
The key to choosing the platform for you is to consider all your use cases. The most common features you need for your intranet are content management, document management, search, security trimming, personalization, customization, and robust integration capabilities. Typical use cases include employee self-service features such as HR forms, policies and procedures, training, announcements, department sites, and links to other platforms. Integration with your public web forms, Slack, Teams, and other collaboration tools can be quite effective — especially when used appropriately. The key is to remember that your intranet is ideal for sticky content across organizational units or the entire company, where Teams and Slack are best used with teams or groups at specific points in time.
Any way you slice it, it is easier than ever to stay connected regardless of where you work. Be sure to consider the right tool to keep your employees informed and engaged. If you are uncertain about what options are best for you or would like to learn about intranet development we've done for specific use cases, we would love to hear from you. We'd like to offer you a complimentary two-hour advisory services session to talk about your goals and help you decide which platform is best for you.
(1) https://www.ragan.com/white-papers/the-intranet-is-dead/
---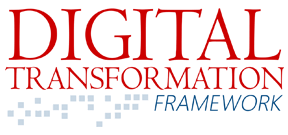 Keller Schroeder's Digital Transformation Framework includes tenets to help you identify, prioritize, execute, and learn from transformational initiatives to better prepare you for the next disruption – whatever it may be! Click here to download your complimentary copy.
Think Digital. Embrace Clarity. Increase Advantage.
---
Written By: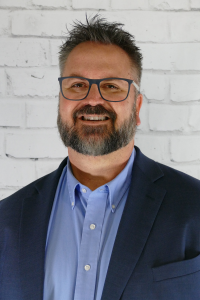 Rob Wilson
Principal Consultant, Southeast Region
Applications Solutions Group