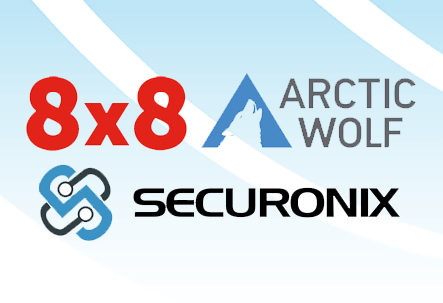 Keller Schroeder continuously evaluates new technology solutions to meet the evolving technical needs of our clients.
With that sentiment in mind, we are pleased to announce three new strategic partnerships added to our Infrastructure Solutions Group line-up to help improve the performance of your organization.
---
8X8
8×8, Inc. is transforming the future of business communications as a leading Software-as-a-Service provider of voice, video, chat, contact center and enterprise-class API solutions powered by one global cloud communications platform. 8×8 empowers workforces worldwide to connect individuals and teams so they can collaborate faster and work smarter. Real-time business analytics and intelligence provide businesses unique insights across all interactions and channels so they can delight end-customers and accelerate their business.
---
Arctic Wolf
Arctic Wolf is the market leader in security operations. Using the cloud-native Arctic Wolf Platform, they provide security operations as a concierge service. Highly trained Concierge Security experts work as an extension of your team to provide 24×7 monitoring, detection, and response, as well as ongoing risk management to proactively protect systems and data while continually strengthening your security posture.
---
Securonix
The Securonix platform delivers positive security outcomes with zero infrastructure to manage. It provides analytics-driven next-generation SIEM, UEBA, and security data lake capabilities as a pure cloud solution, without compromise. Built on an open big data platform, Securonix Next-Gen SIEM provides unlimited scalability and log management, behavior analytics-based advanced threat detection, and automated incident response on a single platform. Customers use it to address their insider threat, cyber threat, cloud security, and application security monitoring requirements.