"Analytics without behavior change is just expensive artwork."[1]  How does this strike you?  Sting a little?  Or if you lead a large complex organization, it might be just how you feel.  In fact, 90% of executives believe that their company culture, i.e. people and process issues, are the primary obstacles to the successful adoption of AI initiatives.[2]
Why?
Because change only happens when people change their behavior.  And change is hard.  I'd go so far as to say it's a lot harder than gathering and cleaning the messy data, sleuthing through the business context of the data, and herding the cats to deploy your findings into an actual operational business process.  To be a "10X Data Scientist", or any effective analytics professional for that matter, you're well served to add a healthy dose of soft skills and a solid understanding of organizational change management knowledge to your repertoire.
As analytics professionals, we have the intellectual obligation to curate and communicate truth from data, so we feel most bulletproof speaking from rational, valid, defensible information.  But dealing in psychological nuance and people dynamics might feel a little squishy to you, or maybe even seem like someone else's job.  The reality is that regardless of what it says in your job description, you are by very definition a change agent.  This is because creating new realities in businesses is exactly what data scientists do.  And value is not created at the moment when you "go-live", but rather when people change their behavior in response to the go-live.  So to build a successful track record, you need to be involved in shepherding change.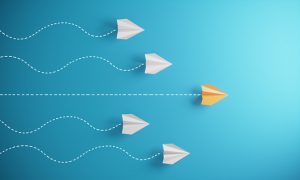 The good news is that there are some great resources out there for understanding how to implement change.  We are believers and practitioners in the Accelerating Implementation Methodology.[3]  This practical, effective, and well-established framework is organized to guide organizations through planning, implementing, and monitoring organizational change.  It's comprehensive, starting with precisely defining the desired change, planning for key roles, designing incentives for new behaviors, and sequencing the communications, activities, and reinforcing policies to make sure the change sticks for good.
Honing your interpersonal skills always helps too.  Even if you're a people person with great communication skills, you can always improve.  There's no substitute for Dale Carnegie's "How to Win Friends and Influence People."  If you've read it, review it often.  If you haven't, you'll do yourself a great service by doing so.
Change management's close cousin is performance management.  Simply put, this is about having clear relationships between your organization's long-term strategy and the way people are incentivized to behave at every level in the company, from the board of directors to the college interns.  That's a tall order.  But luckily, again, there are already great methodologies out there.  We strongly recommend the Hoshin Kanri methodology for deployment of strategy.  Organizations that indoctrinate their people with these principles have a leg up on their competition because everyone understands how things get done, what's important and what's not, and what they are supposed to do to drive success.  And critically, clear alignment to company strategy is super important to data science and analytics professionals, because it helps us distinguish between valuable work that will get support and funding versus dead-end science projects (fascinating though they may be).
Your company needs the skills and insights that analytics professionals have to offer – and getting value from this requires the successful implementation of change, which means changing the behavior of people.  So get good at understanding your company's strategy, translating that to others, and become an agent – or maybe even architect – of change.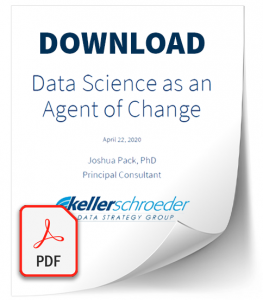 [1] Matthew Haliday, Co-Founder, Incorta.  https://www.informationweek.com/big-data/big-data-analytics/analytics-without-behavior-change-is-just-expensive-artwork-/a/d-id/1334878
[2] New Vantage Partners, Big Data and AI Executive Survey, 2020.  http://newvantage.com/wp-content/uploads/2020/01/NewVantage-Partners-Big-Data-and-AI-Executive-Survey-2020-1.pdf
[3] Implementation Management Associates, https://www.imaworldwide.com/aim-change-management-methodology