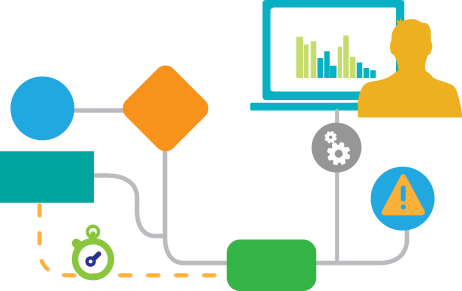 Carrie Rudolph – [Keller Schroeder Certified Nintex Workflow Professional]

How often do you hear individuals in your organization say, "I haven't been able to work on that 'important task' yet, because of all of these other smaller things needing my attention each day."?  How often do individuals in your organization answer questions on status with "It's somewhere in the approval process but I don't know whose desk it's on."?  These phrases are all too common.  When work doesn't flow smoothly and efficiently throughout your organization it causes backlogs, distractions, and frustration, all of which impact your organization's ability to function, react, and grow.
According to businessdictionary.com, a workflow is defined as a progression of steps (tasks, events, interactions) that comprise a work process, involve two or more persons, and create or add value to the organization's activities.  Every department in every organization has workflows.  Some are simple and straightforward, others are more complicated with many people, tasks, and events.  Workflows made up of logical and repeatable steps present an opportunity for automation.
When many organizations begin to explore workflow automation, they focus on the larger, more cumbersome workflows thinking that streamlining these complex processes will yield the most savings of time and resources.  Starting with these larger processes however, many times results in failed attempts at automation or lackluster adoption and savings due to the complexity of these processes.  Instead, I challenge organizations to consider the numerous simpler processes that employees perform every day.
These work items are fundamental processes that are crucial to the operation of your organization, such as document approvals, expense reports, leave requests, and service requests. These are workflows that may distract employees from larger issues/tasks, and because they are performed so frequently and viewed as simple, they are prone to more mistakes, which can add up in rework and lost time.  These processes are perfect candidates for automation because they have a great chance for success, are less complex, and train users to think about workflow solutions.
Automating these solutions takes the burden of managing the processes off of your employees and results in more than ROI.  You can get more done with less effort, focus on what matters most, and expand the impact and scope of your organization. Workflow automation also provides a clear picture of current status and participants' performance, and this additional data can lead to process improvement. The keys to success, when starting to introduce workflow automation in your organization, are to make an immediate impact by getting started quickly, easily reaching all participants, and connecting to content across your organization.

The Nintex Workflow Platform is a suite that Keller Schroeder recommends to assist organizations with workflow automation.  Nintex enables organizations to create solutions in days and weeks, instead of months, so you quickly see the benefits from reduced steps.  It allows workflow participants to interact with tasks via mobile devices, emails, or Skype for Business.  The Nintex Platform also facilitates links across your work systems, cloud applications, or social channels to facilitate information sharing.
The Nintex Workflow Platform sits on top of Microsoft SharePoint and doesn't require additional infrastructure.  Nintex workflows, forms, and connectors are designed using the drag, drop, and configure approach instead of coding, so it's very easy to learn and use.  If work isn't flowing within your organization, consider workflow automation as a means to ease the backlog and frustrations and allow your team to focus on what's most important.
Keller Schroeder is a partner with Nintex and has two employee-owners who are certified Nintex Workflow Professionals.  Please contact us if you would like to learn more about workflow automation with the Nintex Workflow Platform.