Rob Wilson, Business Unit Director


We are pleased to announce a new partnership at Keller Schroeder intended to help us better serve our SharePoint customers. Nintex has a solid reputation as a forms and workflow development solution for SharePoint, which has become increasingly important because of the recent changes to the SharePoint workflow engine and uncertainty about the InfoPath forms solution. We have had a serendipitous relationship with Nintex for some time now, having assisted clients with installation, configuration, and development projects. Now, Keller Schroeder has entered into a formal partnership with Nintex as a Value Added Reseller, so we can assist in the full solution delivery lifecycle, including: evaluation, sales quotations, procurement, implementation, and renewals. Our partnership gives us direct access to Nintex resources, including high quality technical training designed for partners to add to the real world experience our team already has with the product.


Having partnered with K2 already, we did not quickly jump into this partnership. There is some overlap between the products – especially when it comes to SharePoint. This is nothing new to us, however, as we have partnered with competing solutions in the past. For example, Keller Schroeder is a Value Added Reseller for both NetApp and Nimble Storage Area Networks. Why would we do that? The answer is simple: to better serve you. K2, a full-featured BPM solution with SharePoint connectors, will be a better fit for some organizations and Nintex, strictly a SharePoint add-on, will be a better fit for others. Keller Schroeder can help you decide the best fit for your organization and assist in implementing either solution.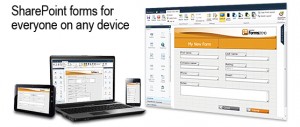 Some of the criteria to consider when choosing a solution are:
How many users will access forms and workflows?
Who will develop the forms and workflows?
Will my workflows access information stored outside of SharePoint?
What infrastructure is available to me?
Which ongoing support model best fits my organization?
What are my team's existing skills?
Is our SharePoint site hosted in the cloud or on-premise?


One message we have consistently shared from the beginning is that to develop more than one workflow for SharePoint, you should definitely consider one of these products. Keller Schroeder is pleased to have had success with both products as well as good partner experiences with both. We are excited to add Nintex as a trusted partner and look forward to sharing more about the product with you. Please contact us for more information about how Nintex could add value to your ongoing SharePoint forms automation projects.