Jeff Gorman, Business Unit Director


The deployment and support of wireless networks continues to grow both in prevalence and in complexity. Whether organizations are seeking to support mobility among traditional laptops, expanding their wireless support to provide connectivity for devices such as tablets and smartphones, or providing guest wireless access to their customers, the requirements continue to drive the installation or modification of wireless infrastructure. As that complexity increases, many organizations are looking for ways to simplify the deployment and management of those networks and the devices which use them.


Meraki, a recently acquired part of Cisco, provides a complete networking infrastructure solution aimed specifically at solving that complexity issue for both wireless and wired networks. Meraki's products offer completely cloud managed networking.


The benefits to the organizations that deploy those solutions include functionality such as:
the ability to manage all network devices from a single dashboard
the ability to control applications and devices
the confidence of a PCI and HIPAA-compliant infrastructure
a platform that scales from small sites to the largest of enterprises
the removal of a requirement to install or maintain wireless controller hardware and management software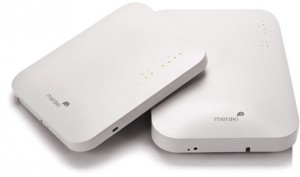 Meraki offers products in the wireless, switching, and security spaces, as well as a no-cost mobile device management solution that supports iOS, Android, Windows, and OS X devices on any network. All of the Meraki solutions can be deployed, configured, and maintained from their cloud-based network management platform. This allows for simple centralized administration of network hardware across any number of remote sites, includes easy to configure network visibility and management functionality for alarms and reporting, natively supports role-based administration and auditable change logs, and can provide application and user device visibility across managed devices.


The control traffic that communicates with the Meraki cloud management software operates in a manner that keeps network management data completely separate from user data. Management data (configuration, monitoring, performance) flows from Meraki devices to the cloud management platform over a secure Internet connection. An organization's private data does not flow through the cloud; it always flows directly through the company network to its intended destination. This architecture provides considerable scalability by eliminating controller bottlenecks, great reliability through redundancy in the cloud management application and allowing traffic to pass even if management traffic is interrupted, and maintains full compliance with HIPAA and PCI requirements.


Meraki has taken a very detailed approach to ensuring the security of their cloud-based offering. They have five geographically diverse tier-1 SAS70 Type II certified data centers that host their environment, and customers' configuration and usage metrics are replicated across three independent datacenters with real-time data replication. Beyond the physical security of the data, they offer functionality like two-factor authentication, password policies, idle timeouts, role-based administration, configuration change alerting, configuration and login auditing. All of these features are provided as native functionality of their Systems Manager solution that is part of each of their devices.


If simplified network deployment and network management are valuable to your organization, or if your organization is looking for ways to have a better view and control of the traffic and devices that are using network resources, Meraki's solutions may be a good fit for your needs. Contact your Keller Schroeder Account Manager to schedule a time to further discuss your organization's network needs and the Cisco Meraki solution.