Chris Haynes, Sr. Consultant


Improve Storage Performance with NetApp Solid State Drives (SSD) & Caching


Today's high density & rapidly growing virtualization environments are putting a heavy strain on storage systems. Traditionally, the only way to meet the growing demand for application performance was to add more hard disks to provide more Input/Output Operations per Second (IOPS). While server technology has been following Moore's Law of doubling improvement every 18-24 months, hard disk technology has stayed relatively flat. NetApp storage first tackled this challenge in 2009 by offering FlashCache PCIe cards for NetApp controllers to cache read IOPS in faster Flash Memory. This improves latency for random reads and works best for file based protocols like CIFS and NFS, but doesn't help as much with writes or block protocols like FC & iSCSI.


The next big game changer in storage performance is Solid State Drives (SSD). SSDs have been around for years, but are now becoming more reasonably priced for enterprise storage solutions and are capable of 40,000 to 100,000 IOPS for random read/write workloads, which makes them perfect for the highly randomized workload that a virtual environment generates. NetApp has embraced SSD technology in a couple of different ways.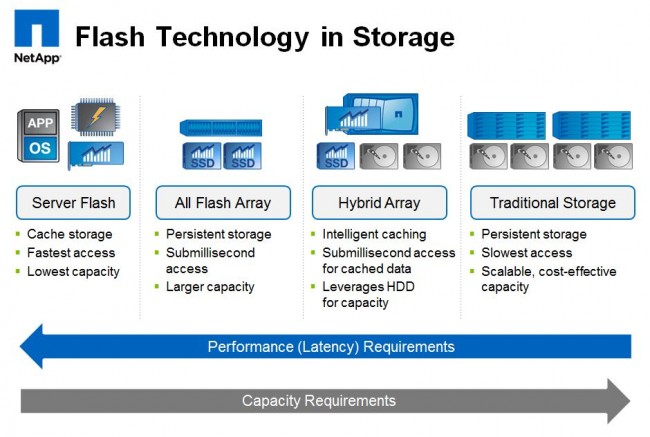 SSD drives can be used with NetApp storage as very high speed storage or as front-end cache for traditional hard disk drives (HDD). The latter is where we're seeing the most widespread and effective usage. NetApp developed this hybrid disk solution using SSD & HDDs in 2012 and called it Flash Pools. You can purchase the SSD disks separately or even buy a mixed tray that contains both SSDs and HDDs. You can then create an aggregate where the SSDs' cache reads and writes for that aggregate's HDD disks, vastly improving performance for any workload on that aggregate from block to file protocols. Intelligent caching leverages the high performance of SSDs with the high capacity & low cost of HDDs and allows your company to get significantly more performance out of fewer disks, thus reducing the cost/IOP as well as space, power, and cooling requirements.


For the most demanding high performance applications, NetApp introduced a couple of additional options. FlashAccel is a Fusion-io PCIe card that can be installed on the server side of the equation, such as a Cisco UCS running VMware ESXi. This option puts a datastore in a virtual storage layer closest to the application providing the lowest possible latency, and less distance equates to less latency. Although it is the highest performing storage cache, it is also the lowest capacity caching.


For even more capacity at super-fast sub-millisecond (ms) response time, we recommend NetApp's latest offering and the very first 100% Enterprise Flash Array, the EF540 Flash Array. It is capable of over 300,000 sustained IOPS at sub-millisecond (ms) response time for even the most demanding database applications.

NetApp has an SSD or Flash cache solution to improve storage performance for every situation, from the most demanding database applications to the typical high density virtualization environment. The sweet spot that is most appealing to the masses today are Flash Pools, adding SSDs as cache to existing hard disk aggregates. This offering is the most scalable and cost effective solution for improving storage performance without breaking the bank.


Please contact your Keller Schroeder Sr. Account Manager or Storage Engineer for more information.