Dan Ehrhart, Vice President of Applications


Psychology Today defines friendliness as, "a down to earth approach that is welcoming and positive." So, what is mobile-friendliness? For a website, it's one that is easy to use on a mobile device browser requiring no page resizing or horizontal scrolling.


Why is it important to be mobile-friendly? Well, it's down-to-earth, welcoming, and increasingly it's the window through which people first encounter your organization. Many people will not endure an unfriendly site. And 57% of users will not recommend companies with poor mobile sites (Source: Search Engine Journal).


Here are some local examples of website traffic:
Nineteen percent of Keller Schroeder's website visitors come from mobile devices.
For a handful of manufacturers, it's 25%.
A sports league exceeded 50% of visits coming from smartphones this year.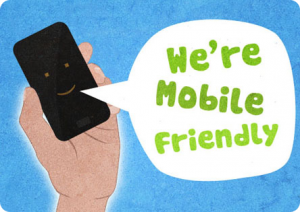 Discouraging a significant and growing percentage of website visitors doesn't seem wise for any organization. To find mobile visitor info for your website, look at your on-site web analytics tool (e.g., Google Analytics). Also, check the bounce rate, which means the user left your site without going to a second page. If your site is not mobile-friendly, the bounce rate will probably be higher for the mobile category than the one for desktop/laptop.


If your website is ready to be replaced, consider responsive design, which allows for one site that dynamically adapts to devices ranging from smartphones to tablets to PC monitors. If you are happy with your website, consider a separate mobile site. Experienced with both approaches, Keller Schroeder can likely save you some blend of time, money, and grief.


Mobile-friendliness is not only for public websites. What software in use by your organization would be much more effective if accessible on a smartphone or tablet? If you are an application developer or your company develops or uses custom web apps, consider making mobile-friendly your standard approach. It's a lot more efficient to build in mobile-friendliness from the beginning. We can help you get started, explore evolving an existing application, or develop your next web application. If instead you want a mobile app, we can help you with that as well.


For more information on mobile, visit www.www.kellerschroeder.com/mobile or scan the QR code below.